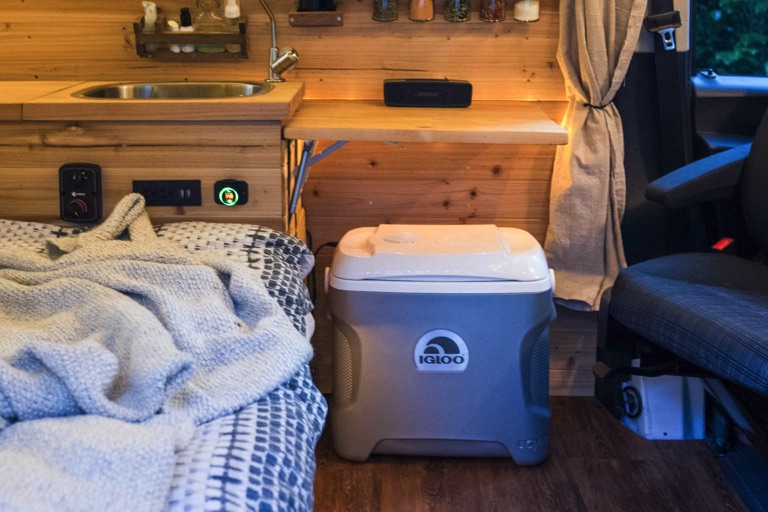 Disclosure: This page contains affiliate links. We earn commission if you click on a product link and make a purchase.
Having added all sorts of comforts and conveniences to our van, for the longest time, we figured we would draw the line at having a powered fridge. Let's not be THAT spoiled, we thought. That was until just a couple days before our first big road trip with the van.
All along, we had been looking at all these large, expensive fridge options intended for larger vans and RVs, which were overkill for our little van. But then, we came across this gem. The Igloo iceless thermoelectric cooler cost only $100, and has been an absolute game changer! No more worrying about having to restock the cooler with ice, and dealing with all that mess from melted water getting into all our food containers!
Goodbye, soggy spinach and water-logged hummus. Hellooooooo, convenience!
If there's one feature that we would recommend having, a fridge would be it. It's hard to overstate how much we love this thing. Best $100 we've ever spent!
This cooler does have a couple downsides, which we have worked around. Firstly, it can only cool up to 40F below ambient – so if you live in a warm climate where the temperatures frequently exceed 80F, this wouldn't be the best option. Living in the Pacific Northwest with temperate summers, this isn't an issue for us. Secondly, it has no temperature control – it's either on or off. Thirdly, it draws more power compared to the normal compressor type refrigerators. Good thing we oversized our battery!
Here's an inexpensive option worth considering, if you're looking for a normal compressor refrigerator. At $250, it's a lot cheaper than most RV refrigerators, and can cool down to -4F.
We installed a handy little switch on the passenger seat frame, so we can easily turn the fridge on or off while on the road or chilling in the van. Depending on the weather, we typically only run it for about 3-4 hours per day – just enough to ensure everything remains cool.
Wiring the fridge
The fridge itself comes with a 12V plug, which you can directly plug into an automotive 12V socket. We wanted to install a switch on the passenger seat, which would result in a significantly longer wire. Given that the fridge does draw high current, we wanted to avoid such a long wire – so we used a relay switch for the fridge circuit.
A relay is basically an electrically activated switch. Instead of installing the on/off switch on the same wire as the main device, it is installed on a separate circuit. This circuit doesn't draw much current, so it can be as long as you need. This way, the main circuit can remain short. When you turn the switch on, the relay powers up and turns the main circuit on as well. The diagram below shows a simplified relay circuit.

And here's the complete circuit showing how our fridge is wired. The fridge plugs into a 12V socket, and the on/off switch is installed right by us on the passenger seat. Neat!