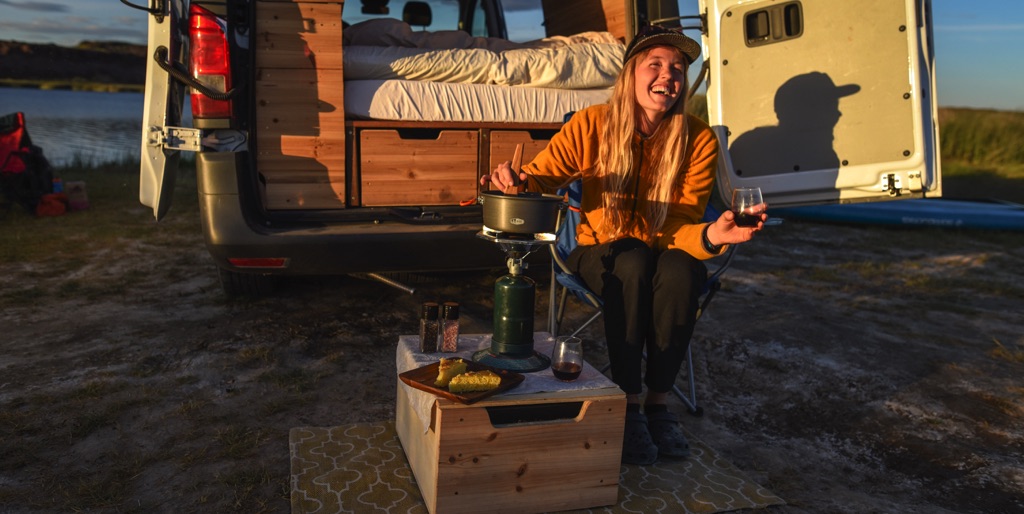 Disclosure: This page contains affiliate links. We earn commission if you click on a product link and make a purchase.
Out of everything in the van, our kitchen setup probably went through the most number of design iterations. Our initial plan was to install a fixed two-burner cooktop, but we realized that it would take up too much precious interior space. We also wanted the cooktop to be portable, so that we could cook outside when the weather's good. So, we decided to stick with our little Coleman bottle-top propane stove, and have been very happy with how our setup has turned out.
The stove is really compact, so when not in use, it just sits in the corner by the fridge. We store all our cooking utensils and food supplies in our pantry storage boxes, which slide out from underneath the bed. One of these has a foldable lid and serves as our cooking platform.
While cooking inside the van, we sit in our swivel seats. When the weather's nice, we bring the box outside for a cooking platform and sit on the back ledge of the van. Or if we scout a more scenic spot that the van can't get to, we simply bag up our cooking supplies, a picnic blanket and the stove, and we're fully mobile.
We often bring along our portable grill, which is perfect for when we're just craving some juicy burgers! It uses the same propane bottle, and is super compact as well.
All our cooking accessories have their own dedicated storage space in our sliding door pocket organizer, or on our storage racks, so everything's always within arm's reach.
We love the flexibility of our system, although the quality of the burner itself isn't the best. We usually carry a spare propane bottle with us, and use this adapter to refill our bottles using our large gas grill propane tank at home.
Our kitchen essentials: